Wisdom of the Yawo People: Under the Elephant's Belly, You Can't Pass Twice (Lunda lwa ŵandu ŵa Ciyawo) was published in 2006 and is unique in several ways, probably the most noticeable being that it is published in both the English and Ciyawo languages. The opening pages of this book explains just how it is that one should understand African proverbs and stories. Any Westerner who has tried to understand African thought can tell you it's a different thing altogether! Collections of original paintings by renowned Malawian artist, the late Brian Hara, make the stories come to life.
Another unique aspect of this book is that it can be purchased as a stand-alone book, or with a set of 2 CDs professionally produced that read aloud each proverb in both English and Ciyawo, a perfect aid for anyone trying to learn the Ciyawo language. Listen to a selection below.
The publisher explains: 
Wisdom of the Yawo People is a collection of traditional proverbs and stories from the Yawo people of South Eastern Africa. The literature contains deep wisdom rooted in African soil, which will be applicable to people everywhere. The proverbs are told in both the Yawo language and English and reveal the end result of greed, laziness and pride. They also promote the value of welcoming strangers, belonging and being respectful. Each proverb and story is accompanied by a short interpretation, and illustration.
Google Books offers a generous preview of this book online, a great way to become introduced to this book before buying your own copy.
See on Amazon.com. Available for purchase in Malawi from Kachere Press (Zomba) and other locations where Kachere Series are for sale. Contact us to arrange payment and shipping at US$10 per copy.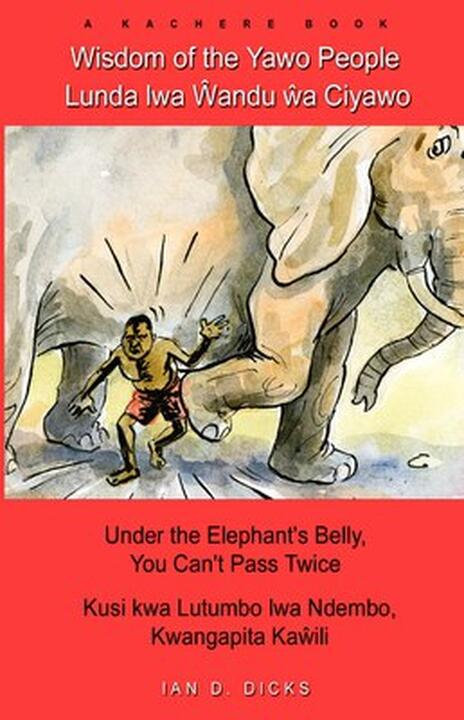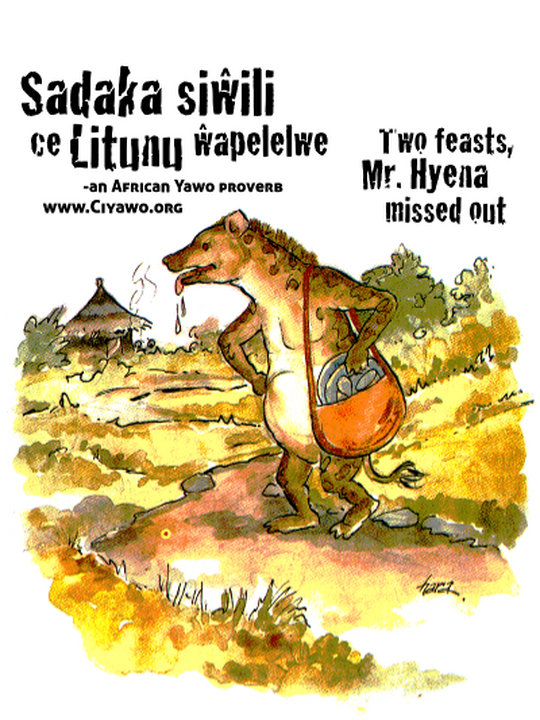 Introduction (first audio in Ciyawo, second in English)
#3
Aci kunong'a, aci kunong'a, citumbili cagwile pasi.
This is nice, this is nice, the monkey fell down.
#4
Acisuŵi kunondiya ya ajawo, nambo yawo akutenda kuwuta.
The leopard belittles what his friend gets, but his own he drags along.
#9
Akasam'wona ndindi unandi, mandanda gakwe aga.
Don't see the warbler bird's smallness, these are its eggs.
#13
Andape andape, ŵalinyelanjile manyi m'katonga
Praise me, praise me, soiled his underpants.
#31
Canasa cawuleje ce Ngwale.
Mercy killed Mr. Partridge.
#32
Cangamtuma, cangasala
That for which you have not been sent, is not to be told.
#33
Cangapikana ŵacitelecele mwiponda.
The one who didn't listen was cooked with the leaf vegetables.
#38
Ce Litunu ŵakanile mbalika.
Mr. Hyena denied the castor seeds.
#39
Ce Litunu wakanice Usilamu.
Mr. Hyena failed to be a Muslim.
#42
Ce Mtimbanje kwawuleje konjecesya.
Mr. Mtimbanje was killed by adding more.
#53
Jikajikape jangawuma mbili.
Alone, alone, one cannot produce history.
#61
Kangapumula ŵakakamwile ŵanace.
Little never-rest was caught by children.
#63
Koca tuŵili, kamo kutinika.
Roasting two, one gets burnt.
#66
Kondoganya pagalenjele mesi.
To stir where the water is clear.
#74
Kumtenda kalibu ngasimkana.
To welcome you! Don't refuse.
#77
Kupasyoŵela, ce Tombolombo ŵapile mcila
To be used to; Mr. Dragonfly's tail burnt.
#94
Lelope jino waŵilile mnamba.
Today only, dirtied the forktailed drongo.
#108
Liwuto lya kalunga lyakusile ni 'Kwalole!'
The sleeping place of the rabbit grew with, 'Come and see!'
#110
Lusulo lwangali mesi, ngasimgona
The river without water, you should not sleep.